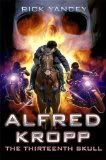 The Thirteenth Skull
Alfred Kropp: Book 3
by Rick Yancey
Having battled the agents of darkness over the sword Excalibur, and faced a horde of demons from Hell, Alfred Kropp has had enough. He just wants to live an ordinary life as an ordinary teenager. He asks OIPEP to "extract" him from his life and give him a new identity. But nothing goes according to plan, as Alfred is pursued by a madman bent on revenge and seeking a mythical "thirteenth skull," while rogue elements within OIPEP seek to use Alfred for their own purposes. Even his sworn guardian Samuel St. John, the former Operative Nine, seems to have secrets of his own. What can Alfred do when he doesn't know who to trust, and no where in the world seems safe?
As with the other books in the series, Rick Yancey wastes no time getting to the action. By the fourth page, things are already blowing up, and by the sixth page, Alfred is on the run. Yancey doesn't waste a lot of time with back story, and yet he expertly weaves in enough information that I think someone could read this book without having read the other two.
Alfred is still quite likable as an "everyman" character, but he's also changed: he's leaner, harder, more willing to do "the thing that needs be done." And yet, paradoxically, his innocence, compassion, and sense of justice have grown as well. The tension between "the thing that needs to be done" and "the thing that's right" sets up a conflict that forms the backbone of the story.
This book is just as exciting as the others in the series, with non-stop action mixed with occasional humor. Yet, it's also in some ways deeper and more sophisticated. The Thirteenth Skull can be read on two levels. Readers looking for an exciting adventure story will find that they don't come much more exciting than Alfred Kropp. At this level, it's a perfect book for reluctant readers. But those looking for a little bit more will find depth in the themes relating to sacrifice, forgiveness, and the human relationship to the divine.