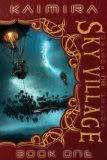 Tomorrow, I'll be participating in the blog tour for
Kaimira
, Book 1:
The Sky Village
, by Monk Ashland and Nigel Ashland. Monk Ashland is a pseudonym for writer (and 2007
Cybils
judge)
Chris Rettstatt
, and Chris will be joining me tomorrow for an interview. I'll also be posting my review of the book tomorrow.
The complete schedule for the tour follows, so be sure to check out all the other tour stops, too!
Monday, July 14, 2008
Wands and Worlds
Tuesday, July 15, 2008
Shelf Elf
Wednesday, July 16, 2008
A Wrung Sponge
Thursday, July 17, 2008
Jan Dohner, Library Media Specialist
Friday, July 18, 2008
Association of Online Community Moderators
Saturday, July 19, 2008
Bri Meets Books