Rot & Ruin
by Jonathan Maberry
Benny Imura was just a toddler on First Night, when the world fell to the zombies, but he has flashes of memory from that night. He remembers his half-brother Tom taking him and running away, leaving his mother behind to become one of the walking dead. Because of this, Benny knows that Tom is a coward, even if other people think he's some bad-ass zombie hunter. Benny refuses to apprentice with Tom, even though he has to find a job by the time he turns fifteen, or his rations will be cut in half. Finally, jobless on the eve of his fifteenth birthday, Benny has no choice but to ask Tom to take him on as an apprentice zombie hunter. But when Tom takes Benny on his first trip into the Rot & Ruin, the zombie-infested world outside the walls of the town, Benny begins to learn that things are not as simple as he expected. For who can make sense of a world where heroes become monsters and monsters turn out to be human?
I'm not all that interested in zombies, and when this book was nominated for the Cybils award, I resisted reading it initially. But when several of my fellow Cybils panelists not only added it to their working shortlists, but actively pushed for it, I had to read it. I was glad that I did!

Rot & Ruin is not only an action-packed story with suspenseful scenes that will keep you reading late into the night, but it also has depth and character development. The heart of the story is Benny's developing relationship with Tom, and coming to terms with the past and the present. Even killing zoms is not as simple as it seems; Benny learns from Tom to recognize that they once were human, with loved ones who might mourn them still. As often is the case in horror, the real monsters are not the zombies, but the humans.
On its surface, Rot & Ruin is a zombie novel, but it's really much more than that. At it's heart it's a Western, with some Samurai mythos added for good measure. (But then, there are close ties between Westerns and Samurai movies, anyway). In one scene where Tom steps into a confrontation, I swear I could hear the music from The Good, the Bad, and the Ugly in my head.
There's an ethnic diversity in this book that feels genuine, not forced. Of course the survivors of a diverse nation would be diverse, and the population of the town of Mountainside reflects that. Benny himself is half Japanese, and his half-brother Tom is a full Japanese-American. (Tom and Benny share a father but have different mothers). Tom is a hot guy, a deadly fighter, and yet sensitive too, which makes a welcome change from the frequent stereotypes.
With a couple of strong female characters, and a credible teen romance (from a guy's point of view), Rot & Ruin has something for everyone.
Rot & Ruin was the 2010 Cybils Winner for Teen Fantasy and Science Fiction.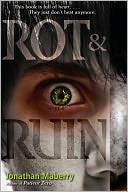 Buy Rot & Ruin from:
Amazon.com
Your local independent bookseller through IndieBound
Audio book from audible.com
Barnes & Noble

The sequel to Rot & Ruin, called Dust & Decay, will be published August 30.
Preorder Dust & Decay from Amazon.com
Preorder Dust & Decay from Your local independent bookseller through IndieBound

Preorder Dust & Decay from Barnes & Noble

Reviewed from library copy. FTC required disclosure: The bookstore links above are affiliate links, and I earn a very small percentage of any sales made through the links. Neither of these things influenced my review.