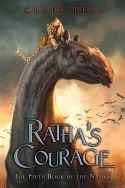 The good news is that
Ratha's Courage
has been selling well. The bad news is that it's running out of stock in many places, including Amazon.com. If you're trying to locate a copy, it is still possible to find one. Here are some suggestions:
If it's not available in your local bookstore, any bookstore should be able to order it for you. The wholesalers are also having difficulty keeping it in stock, so your bookseller may say that it's out of stock and they can't order it. If that happens, ask your favorite bookseller to backorder it so that it will come in when it's back in stock!
If it's not available in your local library, ask your library to order it! Most libraries will order a book that isn't in their collection if enough patrons ask for it!
Edited to add:
you can also
purchase Ratha's Courage as an e-book
from E-reads.com.