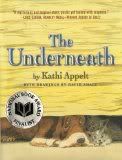 The Underneath
by Kathi Appelt
A lonely calico cat, pregnant and abandoned by her owner in the bayous of East Texas, befriends an abused hound dog named Ranger whom she finds chained outside a rundown shack. Ranger belongs to the owner of the shack, a cruel man known as Gar Face, who shoots anything that moves, and who has chained Ranger permanently in a twenty-foot circle after a hunting accident left him lame.
Ranger warns the calico cat to beware of Gar Face, but in their loneliness, the two can't bear to part. The cat moves under the shack, where she can stay with Ranger but be out of sight of Gar Face. There, she has her kittens, and the cat and the hound dog raise them together as a family. The kittens grow up in the Underneath, with the one strict rule that they must never leave the Underneath. But kittens are kittens, and it's only a matter of time before one ventures out.
Meanwhile, an ancient creature, who has been trapped under the bayou for a thousand years, struggles to deal with a thousand-year-old pain that still feels fresh. And Gar Face sets his sights on trapping the granddaddy of alligators, a beast so large that it will finally earn Gar Face the respect that he craves.
I don't often engage in
Newbery
predictions, mainly because the type of books I usually read tend not to be the kind of books favored by the Newbery committee. But as soon as I started reading
The Underneath,
I felt that here was a Newbery-worthy book. The writing is exceptional; the story, moving and poignant. I won't be surprised if it turns up as a Newbery medal or honor book next month.
There are really multiple stories here. The story of Ranger and the cats is intertwined with Gar Face's story, past and present, and a thousand-year-old love story involving shapeshifters and the now-vanished Caddo tribe, former inhabitants of the forest. Kathy Appelt masterfully brings these diverse threads together in a poignant story of love and loss courage and redemption. The writing is poetic and vivid, creating a strong sense of place in the dark forest and bayous; the setting is so vividly described it's almost a character.
As much as I loved this book, I think that some young readers may have trouble with it. It's not a very fast-paced book; there is suspense and conflict, but it builds slowly. And the alternating stories, which jump between characters and time periods, may confuse some readers. Good readers who love good writing and moving stories will enjoy it, and I think that many other readers who might not pick it up on their own can also enjoy it in the context of classroom reading, with support from a teacher.
It's also a dark book, at times; bad things happen, and there is loss and sadness. Some children may find it too much, but others will love it for its poignancy. And in spite of the sadness, it's ultimately an uplifting book.