This week is Teen Read Week, an annual event created by YALSA, the young adult division of the ALA. In honor of Teen Read Week, I'm going to be giving away a set of three books from the Named series, by Clare Bell:
Ratha's Creature
(book 1),
Clan Ground
(book 2), and the newly published
Ratha's Courage
(book 5).
For a chance to win, all you have to do is to write a limerick relating to this year's Teen Read Week theme, "Books with Bite," and leave your limerick in the comments. Your limerick could be related to the theme in general, or it could be about your favorite book with "bite". To get you started, here's a limerick written by Clare Bell, author of the Named series: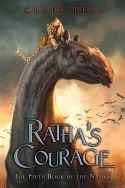 With October comes Halloween night
When we dress up to give folks a fright
Costumed as bats
Or black Named clan cats
And read all the best books "with bite".
Entries must be posted by this Saturday, October 18, at 11:59 pm Eastern Time. The winner will be selected by random drawing, 'cause, well, I was recently a judge in a writing contest and I know how hard it is to pick one winner from so many good entries. I'd rather celebrate and enjoy all your limericks rather than having to choose one as "best".
The winning entrant must be able to give me a shipping address for review copies, so anyone under 18 should check with your parents first. You don't need to give me your address unless you win (please don't post it here!) and I promise I won't do anything with your address other than ship you the free books!
So limerick away! I look forward to reading your entries!